Making a move can be a very stressful process, and it can be a lot more than just unpacking boxes and getting your kids familiar with a new school and home. Once you've totally unpacked and feel organized, to truly feel comfortable in your new community, you want to connect with your neighbors and get a real feel for your new community.
Making new friends can be uncomfortable for some, but once you get the hand of things and get familiar with your new neighborhood, you'll get past that feeling of being the "new guy". Here are few ways to help you settle in and make your new house and neighborhood feel like HOME.
1. Connect with people before you move
Reach out to people you may know in the area and ask them to meet up for coffee! Let them know about your situation, chances are they'd be more than happy to invite you out with their friends so you can meet new people. Also, check out local community groups on Facebook. Here you can introduce yourself to the community and look for meet-up opportunities.
2. Host a neighborhood party
Sure, inviting a strangers over to your new home may feel weird, but it's a great way to meet your neighbors in one setting. Schedule it at a convenient time and keep it casual – offer some cheese and wine, maybe even your famous chocolate chip cookies!
3. Be outside as much as possible
Perhaps you still need to breakdown all of those moving boxes, or instead of just letting the dog roam the yard, take him for a walk. Time your gardening or yard work around the time when people are picking their kids up at the bus stop or when they are coming home from work. This presents great opportunities to quick welcome chats with your neighbors!
4. Shop and eat local
Ask your local Facebook group for suggestions on the best local shops and restaurants! Loca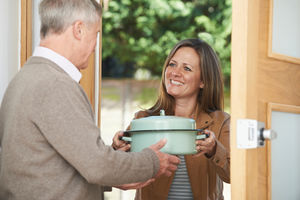 ls tend to hang out at local, family-owned businesses rather than the big-box stores, so your chances of meeting some great people are high.
When you go to the restaurants/bars, get to know the staff and owners by name. Restaurant workers tend to know many locals, and can be a great resource for networking.
6. Join a club or hobby group
What's your favorite hobby? Fishing? Slow pitch softball? After a stressful move, it'll be a breath of fresh air to have some fun! Use websites like MeetUp.com or NextDoor.com to find local clubs or meet-ups.
Many towns of community supported gardens, so if you like to garden that is a great opportunity to support local farmers and meet new people.
7. Go old school with mail
Leave a note or letter in your new neighbor's mailboxes – write a little bit about yourself and your family and share the news of your latest move. Or you could do a reverse "Welcome" pop-by and drop off some of your famous apple pie to introduce yourself!
Read the Original Article Here: Just Moved? 7 Tips for Making Your New Community Feel Like Home
Is there a move in your future? Contact one of our Executives today!
---
List View

Map View

Grid View
See all Real estate matching your search.
(all data current as of 7/27/2021)
Listing information deemed reliable but not guaranteed. Read full disclaimer.